What Is Important Difference Between Cardboard Displays and Corrugated Display Materials
Holidaypac
2023-05-31
500
What Is Important Difference Between Cardboard Displays and Corrugated Display Materials
At holidaypac company, we create custom display solutions that demand attention in retail environments. Although we are a full-service retail display manufacturer and can design something for you,
we often have clients come to us with a concept or sketch that we then bring to life.When dreaming up a custom point of purchase display for your company, you may have several ideas in mind from
the initial design to the materials you wish to use. One thing we notice is the confusion over certain types of building materials that can make a big difference if used in place of each other. For example,
some people may ask for a cardboard display when they really need a corrugated display made out of fiberboard.
So, what's the difference between cardboard displays and corrugated displays?

Cardboard Displays
Before you ask for a custom cardboard display, it is helpful to become familiar with the material. The term "cardboard" typically refers to a thick or heavy paper stock. Many people use the word "cardboard"
as a blanket term to encompass all things made from a paper base.But even the common "cardboard" boxes that are used for shipping aren't technically cardboard -- they are made from a corrugated fiberboard.
This material is much stronger and thicker than regular cardboard and is often used in point of purchase displays.
Corrugated Displays
Corrugated display materials are made up of 3 or more layers. The fluted middle runs between the inside and outside liners. The rippled shape in the center provides structure and strength that holds up better than
simple cardboard. You may have seen this type of material many times before, but were not sure of its unique name. Although corrugated fiberboard and cardboard are both paper-based, they serve very different purposes.
Corrugated display works well for many types of custom POP displays like merchandising displays, life-size standees and floor displays, and even pole topper displays. For example, a corrugated material could be used
for a seasonal or promotional merchandising display. You would need the strength from a corrugated board to withstand the constant interaction between the consumer and the display. There may be products moving in
and out of the display on a daily basis, so you need something that will stand on its own and hold the product securely.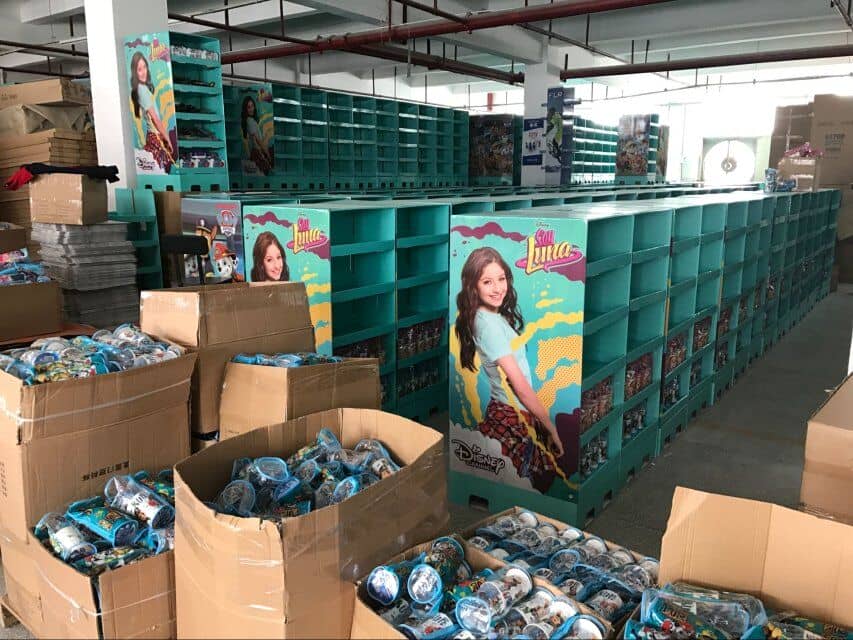 Now, this isn't to say regular cardboard display is lesser by any means. Different projects call for different materials. Cardboard can be used as an accent to custom point of purchase displays by adding dimension and depth.
When used strategically, cardboard can dramatically change the look of your product and influence how customers interact with the display.
No matter your needs, Holidaypac has the experience and expertise to design and create a custom POP display that is both eye-catching and effective. Give us a call today to see how our display solutions can be put to work for you.