How To Choose The Best Air Fryer Liners And How to Use the Air Fryer Liner?
Holidaypac
2023-05-31
1000
The Best Air Fryer Liners
These liners are meant to make air-fryer cleanup simpler, but only some are worth the type!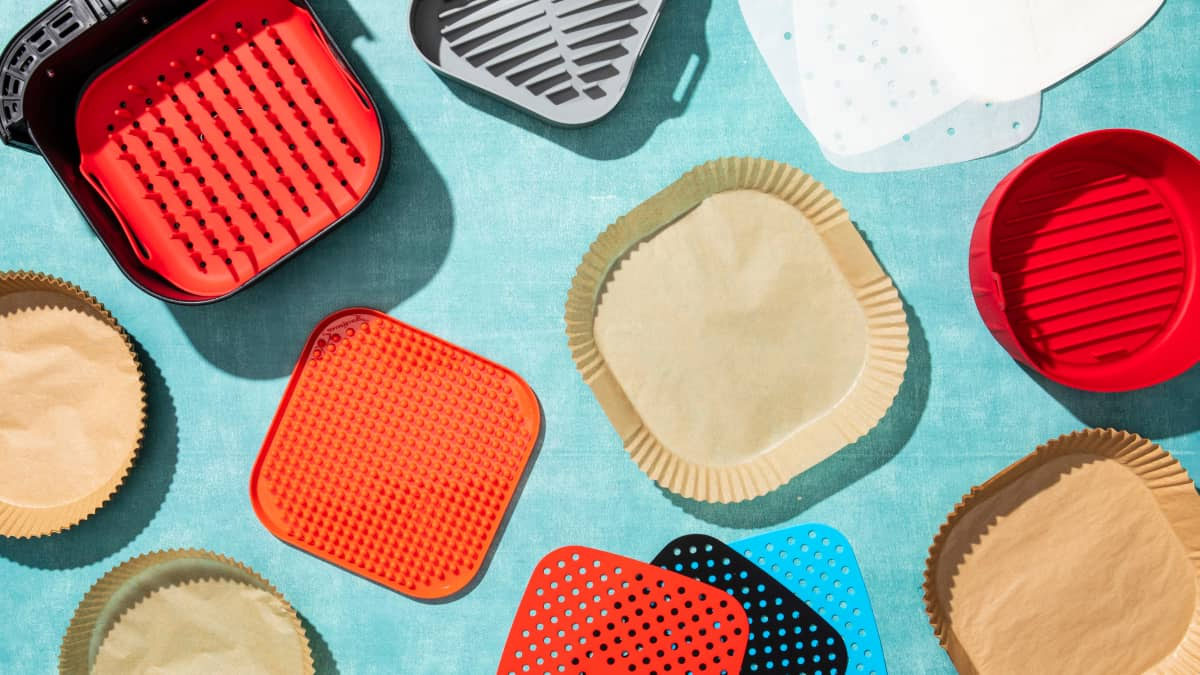 What You Need To Know For the Air Fryer Liner
Air fryer liners are designed to protect air fryer baskets from cooked-on messes by containing grease and crumbs, thereby reducing the need for heavy cleaning. Most models we tested performed poorly, but we had success with the holidaypac 9.1-inch Air Fryer Disposable Paper Liners and the Air Fryer Silicone Mat and Reusable Liners Set. Our favorite sets of liners—one parchment and one silicone—were lightweight and had low sides, which allowed heat to circulate around the food without extending cooking times. The liners contained grease and sticky glaze so well that we usually didn't have to clean our air-fryer baskets at all.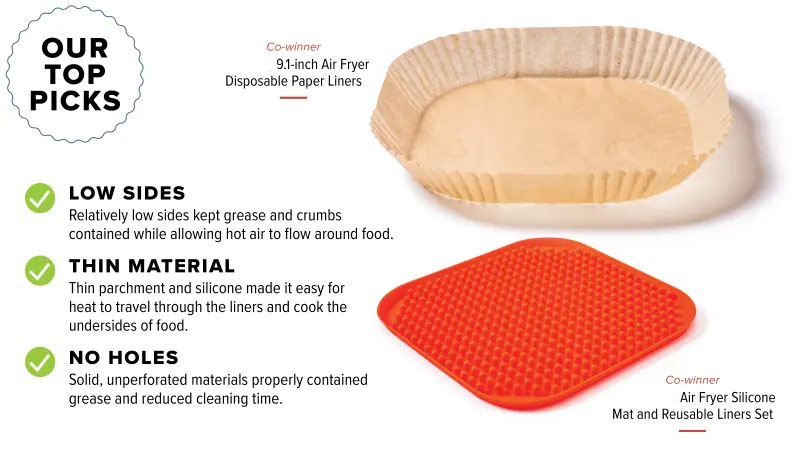 We like our winning air fryer, the Instant Vortex Plus 6-Quart Air Fryer, in part because its nonstick basket and cooking tray are so easy to clean. However, we call for foil slings or parchment in some of our air-fryer recipes for easy food removal. But the recent explosion in popularity of premade air-fryer liners made us wonder: Would these liners make cleanup quicker and offer a more sustainable solution for eliminating scrubbing?
Air-fryer liners are made from either parchment or silicone. Parchment liners are disposable, whereas silicone models are reusable and generally dishwasher-safe. We tested both types, focusing on those whose size was most compatible with our winning air fryer. Regardless of material, some liners had holes or gaps meant to promote airflow, while others didn't. Some models were flat, and others were shaped like pie plates or square baking dishes, with sides meant to contain food and grease. The surfaces of a few of the silicone models were lined with raised ridges or spikes designed to allow air to flow under food and ensure even cooking.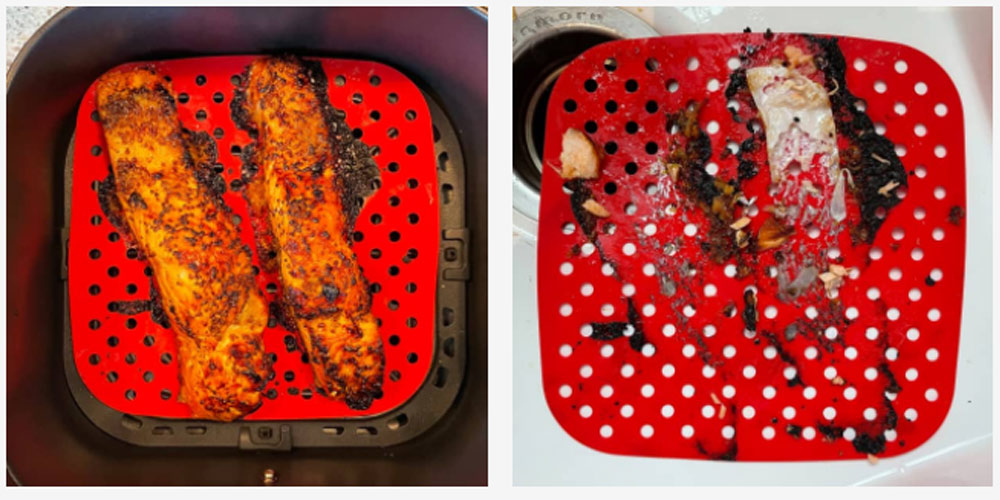 Most models we tested didn't work very well, but a couple liners excelled and completely eliminated the need for cleaning after cooking. And many air-fryer baskets aren't dishwasher-safe, so simply tossing a silicone liner in the dishwasher or a paper liner in the trash can be a relief after a long stint in the kitchen.
What to Look For Air Fryer Liners?
Solid, Nonperforated Liners: One advantage of air frying is that hot air circulates around food, crisping it on all sides. The surfaces of some of the liners we tested had holes designed to promote this process, but these liners didn't catch grease or crumbs very well. They were essentially useless at preventing messes, and we ended up having to clean our air-fryer baskets just as much as we did when we didn't use the liners.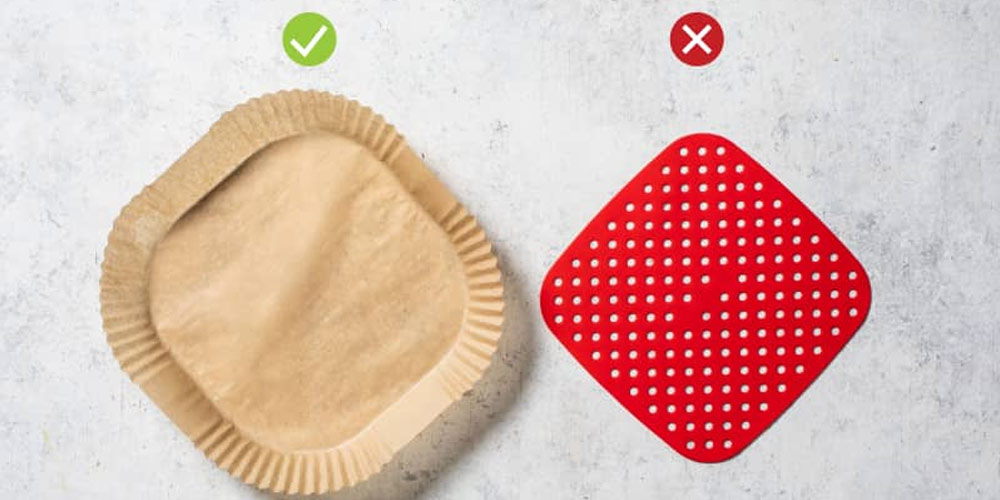 (Holes were meant to allow hot air to circulate under food. Instead, they really just let grease and crumbs pass through, defeating the purpose of the liners in the first place: to reduce cleaning time.)
Parchment or Thin Silicone: When it came to material, the thinner the better. Parchment was ideal because it has relatively high heat conductivity, meaning it allowed circulating heat to penetrate the food while still containing crumbs and grease. Silicone has lower heat conductivity, but some silicone models were thin enough to allow heat to circulate. We preferred silicone liners that were less than 2 millimeters thick.
Liners That Fit Your Machine: We ordered the largest size available of the models we tested. Some liners were still too small for the 10-inch square basket of our winning air fryer, which reduced the cooking space and limited how much food we could cook. We preferred liners that were at least 9 inches wide and had better luck with square liners because they matched the basket shape of our winner. The manufacturers of our favorite liners sell models in a variety of sizes and shapes, so you can look for a design that's compatible with your air-fryer basket. Be sure to measure your basket before shopping. (Square, round and rectangular air fryer liners with different sizes.)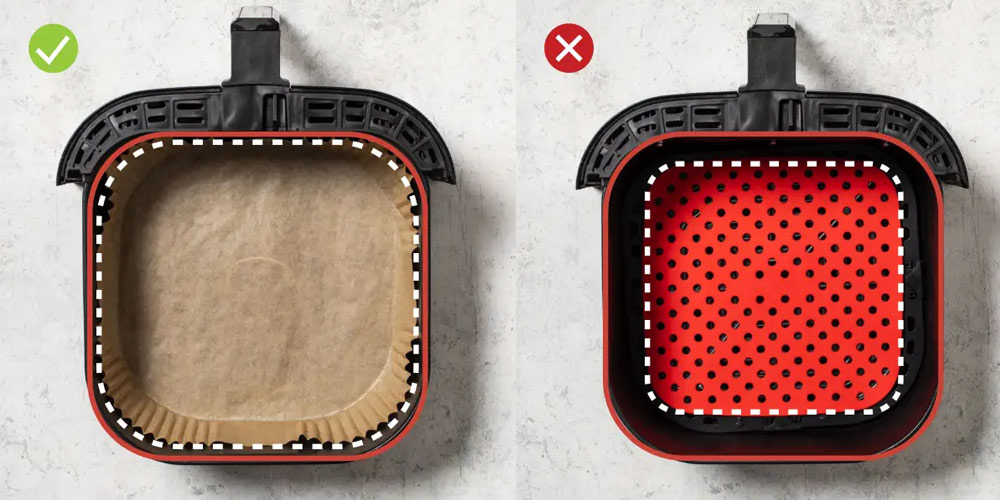 (Air-fryer baskets come in all sorts of shapes and sizes, and so do air-fryer liners. Do your research to choose a model that will fit your basket snugly)
Low Sides: Liners that resembled pie plates or square baking dishes trapped grease and crumbs effectively, but some of them had high sides that kept heat from circulating. We preferred models with lower sides, which contained food well but didn't impede airflow. Our favorite liners had sides that were no more than 1.75 inches high.
What to Avoid When Use the Air Fryer Liner?
Holes: Liners with holes intended to promote airflow allowed grease or sticky glaze to pass right through, rendering them essentially useless. They didn't minimize cleanup. In fact, using the reusable models with holes meant there was an additional item to wash by hand or fit into the dishwasher.
Thick Silicone: It was more difficult for heat to radiate through thicker silicone liners than through thinner silicone or parchment liners, so food took about 3 to 4 minutes longer on average to reach target temperatures.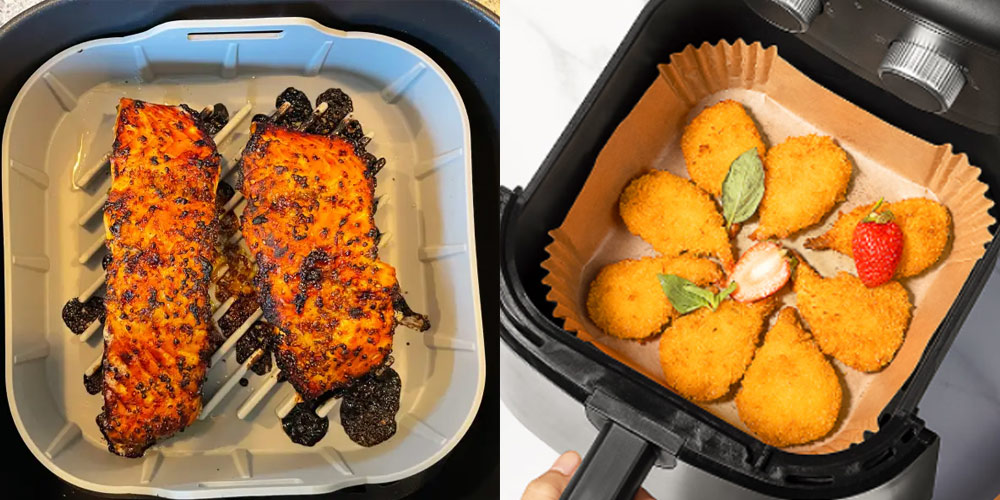 Thick silicone prevented heat from penetrating, so heat radiated directly from upper elements. This caused food to cook unevenly (left). Thinner parchment allowed heat to flow, cooking food more evenly and gently (right).
Liners That Are Too Small: Despite claims that they were compatible with larger air fryers such as our winning model, many of the liners we ordered were too small. They limited the cooking surface and overall capacity of the air fryer, resulting in crowded food that cooked unevenly.
High Sides: The high sides on some models blocked hot air from circulating and reaching every surface of the foods we cooked.